Custom Pergolas in Hillsboro
Pergolas by Dick's Evergreen Fence and Deck
You have spent plenty of time and money making your backyard patio perfect for hosting parties, barbeques, family get-togethers, and quiet afternoons to yourself. What more could you possibly need? The best way to tie it all together is with a custom pergola from Dick's Evergreen Fence and Deck. Pergolas add a touch of extra elegance to your space while protecting you and your furniture from the sun. The best part is that they don't completely block the sun, letting you enjoy your space year-round. Enjoy your patio without worrying about too much sun or rain. Learn more about pergolas today from our team of experts. When you're ready to put the perfect addition on your patio, call or visit our showroom!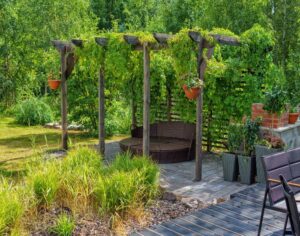 What is a Pergola?
Pergolas are backyard features that we build to form a shaded walkway or sitting area. It uses vertical posts that support a usual wooden "roof" that opens open air and shade. They date back centuries, previously used in gardens and walkways for vines and grapes. Today, we use them to provide cool and airy spaces for us to rest and relax in our backyards. It gives a sense of sophistication while breaking up the monotony and providing us a great place to enjoy the outdoors while being protected from the sun. At Dick's Evergreen Fence and Deck, we design and construct our pergolas with high-quality materials and expert craftsmanship. Our design team can build your pergola to match your home's motif or make a statement. The possibilities are endless when it comes to customizing your backyard. We will consider everything when it comes to your pergola, including which way your home faces, how much sun you want to block, its design aspects, size, and much more. Call us today to talk more about your new pergola!
Advantages of Pergolas
Do you have a spacious yard but can't enjoy it due to the amount of sun you get? Are you tired of applying too much sunscreen just to enjoy an afternoon on your property? Pergolas are the perfect sophisticated solution for sunny backyards. They provide you with a comfortable, relaxing space in your yard or on your patio while being protected from the sun. Oregon summers can be hot. Don't waste your precious space and limit yourself to the indoors. Invest in a beautiful pergola from Dick's Evergreen Fence and Deck. They're perfect for several reasons, including:
Low maintenance
Affordable
Timeless
Provide much-needed shade
Customizable with shades, colors, and materials
Why Choose Us?
At Dick's Evergreen Fence and Deck, we've been helping Hillsboro residents renovate and improve their homes for years. We're proud to be the area's trusted source for backyard home improvement. Our team is truly dedicated to our craft. We source all of our materials from sources we know and trust while all our team is certified and trained. From our sales and floor team to your construction and installation crews, every member of our team is proud of their work, having a background of knowledge and experience. We believe that everyone deserves to have a backyard they're proud of. Pergolas are a perfect addition to any home to add a touch of refined flair. Expand your already beautiful backyard with one of our expertly-crafted pergolas today. Contact us today to get your free estimate, except for insurance and/or real estate appraisal and negotiation. 1 to 2 weeks to receive quote from the day the estimate conducted.