Quality SimTek Fencing in Hillsboro, OR
Dick's Evergreen Fence and Deck SimTek Installation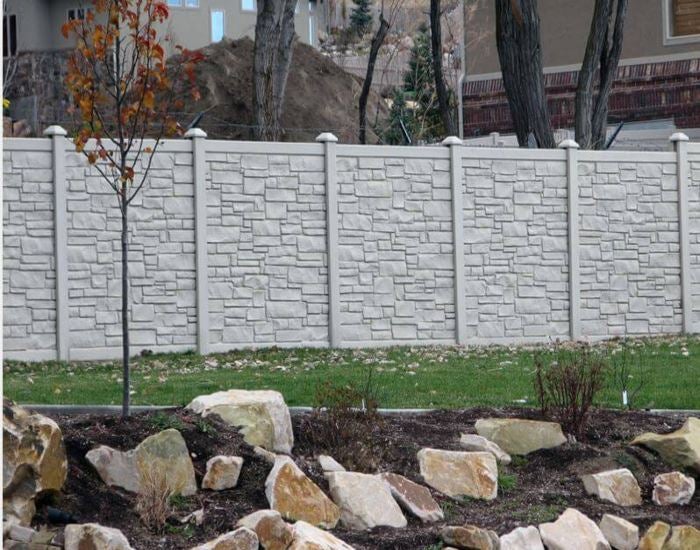 For home and business owners who are looking for a low-maintenance fencing solution, Dick's Evergreen Fence and Deck recommends SimTek fence installation in Hillsboro, OR. SimTek is made from polyethylene, an extremely durable material with the look and feel of a real granite wall. Our highly trained team of professional installers has always been at the forefront of new fencing innovation. We have the knowledge and experience to provide you with a proper installation service. As a BBB accredited business, you can feel confident in our ability to meet and exceed your needs. Our installation process is streamlined, and once we've completed our installation, your property will look better than when we started. If you're interested in installing a SimTek fence, then contact us. We're the name the local community has trusted since 1979.
What are the Benefits of Installing a SimTek Fence?
At Dick's Evergreen Fence and Deck, we are proud to offer a wide array of fencing types, which includes SimTek. SimTek fencing is created using a rotational molding process that provides home and business owners with beautiful and durable perimeter fencing that offers maximum security and privacy. If you're considering an alternative to wood or vinyl for your property's perimeter fencing, we highly recommend SimTek for its durability and low maintenance. We have helped countless home and business owners find the right fencing solution, and we are confident we can help you too. SimTek fencing offers several benefits.
Low Maintenance – SimTek is made of solid sheets of polyethylene, an extremely durable plastic, and reinforced by galvanized steel beams. It will not fade or warp when exposed to the sun or shrink during the cold winter months. As an impact-resistant material, it can withstand normal recreational wear and tear. With a superior wind rating, SimTek fencing can hold up against hurricane-force winds of up to 130 mph. Best of all, it never needs to be stained or repainted.
Customizable – We carry SimTek fencing in a variety of colors and sizes to meet the needs of your property. Choose from Gray Granite, Desert Granite, Dark, Brown Granite, Brown Granite, Black Granite, or Beige Granite for an exterior fence that matches your styles. Panels are available in 3ft x 6ft, 6ft x 6ft, and 4ft x 8ft sheets and engineered to allow stacking to create 8ft and 12ft walls for unbeatable privacy.
Comprehensive Warranty – SimTek boasts one of the best warranties available in the industry for home and business owners, including a lifetime manufacturer warranty. It is also backed by a 10-year fade protection warranty. As an experienced installer, you can count on the team at Dick's Evergreen Fence and Deck to ensure that your installation is handled properly, so you receive complete warranty protection. If you want to learn more about SimTek warranty coverage, then contact our team today.
Eco-Friendly – For environmentally-conscious property owners, SimTek is the right choice. SimTek fencing isn't made from wood products and contains reused content in the manufacturing process.
How Much Does it Cost to Install a SimTek Fence?
SimTek fencing normally requires home and business owners to pay a higher up-front cost of about $70 to $90 per linear foot. While that is more expensive than other fencing materials, including vinyl and wood, SimTek does have one distinguished advantage. Once installed, SimTek requires no maintenance upkeep. You'll never have to paint it or re-stain it. And, because it's backed by a comprehensive warranty, you can expect it to last for years. At Dick's Evergreen Fence and Deck, we offer free estimates for all SimTek fencing installations so that you can make an informed decision on your fencing needs. Contact us today to get started.
Finding the Right SimTek Fence Installer
Don't trust just anyone to install SimTek fencing on your property. Dick's Evergreen Fence and Deck have been helping home and business owners since 1979 with all of their fencing installation needs. Our team of knowledgeable installers is friendly and professional. We work alongside our customers to help them realize their vision for their outdoor space with a variety of customizable options, including size and color. Installing a new fence not only improves the privacy and security of your property it will also raise the sale price. New home buyers consider a high-quality fence an added value to their search. So, whether this is your forever home or you're thinking about moving, know that you'll be receiving the best value for your fence installation. To get started on your SimTek fence installation, contact our team today. We offer free estimates, except for insurance and/or real estate appraisal and negotiation. 1 to 2 weeks to receive quotes from the day the estimate was conducted.