Custom Cedar Fencing in Hillsboro, OR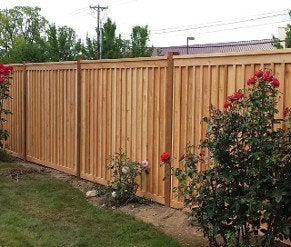 If you're planning to install or redo the fencing in your yard but are stuck on what material to choose, our experts at Dick's Evergreen Fence and Deck in Hillsboro can help. We provide a wide range of fence materials for every purpose and aesthetic, including cedar fencing, vinyl fencing, chain link fencing, ornamental aluminum fencing, and more. Our design experts will work with you to create a custom fence design for your property, using the material that's right for you and your home.
Advantages of cedar fences
If you're looking to establish your property line or redo your fencing with an affordable, stylish option, cedar fencing might be the way to go.
Cedar fences have long been a popular option for homeowners and for fields or farms, providing extreme durability under outdoor conditions. Lasting longer than some other fence materials, like pine, cedar fence boards are naturally resistant to pest infestation due to natural oils in the wood. The boards hold up in tough weather, resisting warping to maintain their straight, aligned appearance.
Beyond function, cedar fences provide a beautiful, rustic look to any backyard, augmenting the landscaping while providing enhanced privacy. Cedar is low maintenance and is typically the least expensive option for privacy fencing. Depending on your preferred look, the wood can either be left to weather to a natural silver or be stained to maintain the original appearance. It doesn't require sealants or chemical treatment, making it a good option for those who prefer natural products.
If you're not sure whether cedar fencing is right for you, talk to one of our experts or explore our offerings in vinyl fencing, chain link fencing, etc.
Cedar fence installation in Hillsboro
At Dick's Evergreen Fence and Deck, our skilled fence contractors can help you develop and design a custom fence made of cedar that's just right for your property. Though there are many styles from which to choose, a standard Dick's Evergreen Cedar Fence is built using:
¾" thick Western Red Cedar fence boards
Nails that are hot-dip galvanized, with a ring-shank
Premium quality pressure-treated posts and #1 fir rails
Galvanized steel fence clips
80 lbs, pre-mixed concrete per post (conditions permitting)
Extra options for cedar fencing include:
5×5 pressure-treated posts
Pressure-treated rails or top cap
Galvanized steel posts
Custom steel gate frames
Materials are available for retail purchase if you want to install your fence yourself, but our skilled fence builders also offer comprehensive installation to ensure you end up with the cedar fence you desire. Started in 1979, Dick's Evergreen Fence and Deck have decades of experience to bring to every fence installation we do. Quality of material, craftsmanship, and service are at the heart of our commitment to our customers.
If you're interested in cedar fence design and installation or want to explore other fencing types, call Dick's Evergreen Fence and Deck in Hillsboro today at (503) 640-7700!