Cedar Fencing in Hillsboro, OR
Gorgeous Cedar Wood Fencing Services
A cedar fence provides a classic, natural look for your property. Dick's Evergreen Fence and Deck offer beautiful cedar fencing installation in Hillsboro, OR. We build real cedar fences using the highest quality materials from ¾" thick Western Red Cedar. Our gorgeous cedar fences offer the perfect look and sense of privacy. Since 1979, our expert team has provided the highest quality customer service and installation services to the Hillsboro area. We'll help determine if a cedar fence is the best choice for your needs. Contact us today to get started! We offer free estimates on all our work!
Advantages of Cedar Fences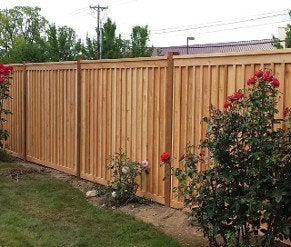 Cedar fences offer many advantages, including:
Durability – Real cedar wood is stable, durable, and resistant to decay and insects.
Aesthetics – Cedar is known for its vibrant colors and rich grain.
Environmentally Friendly – Red cedar is biodegradable and renewable to help the environment.
Flexibility – Depending on your preferred look, the wood can either be left to weather to a natural silver or be stained to maintain the original appearance.
Cedar Fence Installation in Hillsboro
At Dick's Evergreen Fence and Deck, our skilled fence contractors can help you develop and design a custom fence made of cedar that's just right for your property. Though there are many styles from which to choose, a standard Dick's Evergreen Cedar Fence is built using:
¾" thick Western Red Cedar fence boards
Nails that are hot-dip galvanized, with a ring-shank
Premium quality pressure-treated posts and #1 fir rails
Galvanized steel fence clips
80 lbs, pre-mixed concrete per post (conditions permitting)
Extra options for cedar fencing include:
5×5 pressure-treated posts
Pressure-treated rails or top cap
Galvanized steel posts
Custom steel gate frames
Cedar fencing materials are available for retail purchase if you want to install your fence yourself, but our skilled fence builders also offer comprehensive installation services.
Why Choose Dick's Evergreen Fence and Deck?
Dick's Evergreen Fence and Deck are known for its expertise and high level of customer service. Our products speak for themselves. Whether you want a sparkling new deck or a stunning new fence, we have many different options that meet your needs. We always treat your home as if it's our own. As a family-owned business, we work with you to find the best deck and fence options for your unique needs. We understand fencing installation isn't a simple task, so we do our best to make the process as easy as possible. For some examples of our work, visit our gallery.
Contact Dick's Evergreen Fence and Deck
We only use the best fencing products that stand the test of time. All our services come standard with a free estimate. We invite you to visit our showroom or contact us today to learn more about our cedar fence options. Cedar fencing offers a beautiful look, whether you choose to let it weather naturally or stain it with a bold color. We also install vinyl fencing, steel fencing, chain link fencing, and SimTek fencing. Contact us today to get your free estimate!