Deck Products in Hillsboro
Step Outside Your Home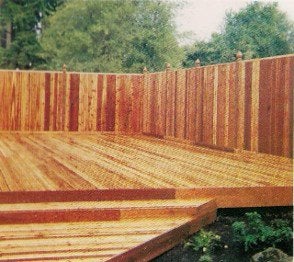 One of the most overlooked additions homeowners often neglect is installing durable decks. Often, adding decking through an experienced deck building contractor is a cost-effective addition can help your family entertain during the warmer months of the year and can drastically increase the overall value of your home. At Dick's Evergreen Fence and Deck, our Portland deck contractors can provide you with a free estimate as to the total decking cost of adding on a new deck to your property. Unlike other deck companies we install quality decks at affordable prices as well as provide deck installation and deck construction.
Standard Dick's Evergreen decking is built using:
Cedar, vinyl, composite, or aluminum
Pressure-treated framing (posts, beams, and joists)
Galvanized hangers and ties
Joists are installed 16" on center
Most vinyl and composite products specify 16" spacing
Handrail that is custom built to suit the kind of decking materials being used
Traditionally wood decks have joists 24" on center, but the newer growth wood is not as strong so a narrower spacing is recommended
Standard hardwood decking is 2×6, tight-knot, western red cedar
Fastened with either hot-dip galvanized Ardox nails or colored deck screws
Features up to a 25 year manufacturer's warranty
Available in different colors and textured faux wood finishes
Fastened using a hidden system (ie. clips) or with color-matched deck screws
Offered with a Lifetime Manufacturer's Warranty (call for details)
Like composites, are available in different colors
Can be fastened using clips or colored deck screws
Generally considered the "top of the line" for decking
Extra Decking and Deck-Related Options Include
Benches
Pergolas
Privacy screens
Planter boxes
Engineering/permits if requested or required
Finish off your new deck with one of our Awnings!
Other Extras Available and Deck Accessories
Welded and Powder Coated Handrails/Grab rails
Vinyl & Wood Arbors
Custom or New England Arbors brand arbors
Custom Built Vinyl or Wood Pergolas
Pool Fence
Field/Farm Fence
Delivery of "DIY" Materials
Tiger wood decking
Coverstone decking
Cedar decks
Deck railing
IPE decks
PVC decking
To find out more about our various custom deck products, please reach out to our office by calling our deck installers at (503) 640-7700!