Fencing Products in Hillsboro
Affordable Fencing Options for Residential & Commercial Properties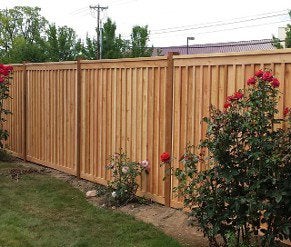 Are you looking for a cost effective way to establish your property line with a new fence construction that has new fencing styles in a variety of fencing sizes? Is your old Hillsboro fencing beginning to break down? If either of these scenarios ring true, you should contact our Hillsboro fence contractors at Dick's Evergreen Fence and Deck!
Unlike many residential fence companies that sell you a generic fence for your property, our fence contractors can actually create a quality fence design plan for your property and do the fence installation. Below you will find some of the many custom fence options we have avalible.
Strudy fencing
Low Maintenance
Cedar fencing boards are naturally resistant to pest infestation
Cedar fences are generally the least expensive type of privacy fencing
Cedar fences can either be left to weather a natural silver, or can be stained to maintain their original appearance
There Are Many Fencing Styles From Which To Choose
A Standard Dick's Evergreen Cedar Fence Is Built Using:
¾" thick Western Red Cedar fence boards
Nails that are hot-dip galvanized, with a ring-shank
Premium quality pressure-treated posts and #1 fir rails
Galvanized steel fence clips
80 lbs, pre-mixed concrete per post (conditions permitting)
Extra Cedar Fence Options Available:
5×5 pressure-treated posts
Pressure-treated rails or top cap
Galvanized steel posts
Custom steel gate frames
Requires minimal fencing maintenance
Is available in various styles and colors
A seasonal rinse is all that is required to keep a vinyl fence looking like new
On-Site CNC Router Allows for Job-Specific Customization
Most Products Are Offered with a Lifetime Manufacturer's Warranty (call for details)
Great for defining property lines as it adds an additional level of security fencing
Comes in a variety of colors, such as black, green, and brown
Our chain link gate frames are each built custom to ensure their proper functioning
Our chain link fencing is built using mesh with pre-woven 2" privacy slats and are about 15% cheaper than traditional slatted fences
Pound for pound, aluminum is stronger then steel
Aluminum also resists rust better than other materials
Manufacturer's warranties are offered for up to 20 years
Ornamental Steel & Aluminum Fencing
Offered in several decorative fencing or utilitarian styles
For more information regarding any of our residential fence options like wood fencing and aluminum fencing, please call our fence builders at (503) 640-7700!