Quality Fence Services in Hillsboro, OR
Hillsboro, OR's Trusted Fence Installation Company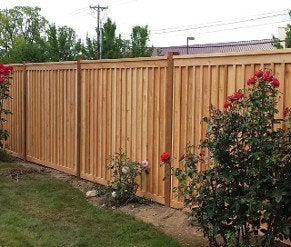 Dick's Evergreen Fence and Deck offers fence installation services to residents and commercial businesses in Hillsboro, OR. We have many different fencing styles in various sizes to fit your needs. If your old Hillsboro fencing begins to break down, we will replace it with a fresh, durable new one. Unlike many residential fence companies selling you a generic fence for your property, our fence contractors can create a quality customized fence design plan for your property and install the fence. Contact us to learn more about our fence services. We're happy to offer free estimates on our services!
Why You Should Install a Fence
Our fence installation services are beneficial for many reasons, including:
Helps to define boundaries
Adds curb appeal to your property
Provides a boost in privacy
Contains children and pets
Helps safeguard pools
To safeguard pools
Dick's Evergreen Fence & Deck's Types of Fence
Our experienced team members will help determine the best fence for your needs. Our types of fences include:
Cedar Fence – A cedar fence offers a traditional, beautiful look with natural wood. Western Red Cedar fence boards are ¾" thick, with durable hot-dip galvanized nails that come complete with a ring shank. Each post is pressure-treated with galvanized steel fence clips. We'll ensure the fence's structural stability by using 80 pounds of pre-mixed concrete per post if the conditions allow for it.
Vinyl Fence – Vinyl is a durable, cost-effective fencing option. Due to its composition, vinyl fencing requires minimal maintenance, is resistant to pest infestation, and doesn't require any chemical treatment or staining. Vinyl fencing is offered in a wide array of colors and styles.
Chain Length Fence – A chain length fence offers function, durability, and visibility. It's made with galvanized steel wire intertwined into a net-like mesh. Our chain length fences are offered in multiple colors for a customized look and are made from aluminum for rust resistance.
Ornamental Steel Fencing – Steel fencing provides a gorgeous, classic look. It's made from steel and aluminum for a durable build. Our ornamental steel fencing is offered in decorative and utilitarian styles, surrounding your property in incredibly tough and resilient steel and aluminum fencing.
Simtek Fence – A SimTek fence is made from durable polyethylene to look and feel like a real granite wall. Many people love the maximum security and natural beauty provided by a SimTek fence. You can choose from Gray Granite, Desert Granite, Dark, Brown Granite, Brown Granite, Black Granite, or Beige Granite to customize your Simtek fence.
Why Choose Dick's Evergreen Fence and Deck?
Dick's Evergreen Fence and Deck use innovative and gorgeous options for fencing and decking. We strive to offer the highest level of customer service with our superior installation services. For over 40 years, we've offered the Hillsboro area the best selection of deck and fence options. Our fully certified and trained team members complete jobs with materials from known sources. You become part of the Dick's Evergreen Fence and Deck family when you work with us.
Contact Dick's Evergreen Fence and Deck
Dick's Evergreen Fence and Deck will help you find the fence that best meets your needs. We'll customize the perfect fence for your property. We invite you to visit our showroom and view our gallery to see our work. Contact us today to get your free estimate!