Long-Lasting Vinyl Decking
What Can Vinyl Decking Do for You?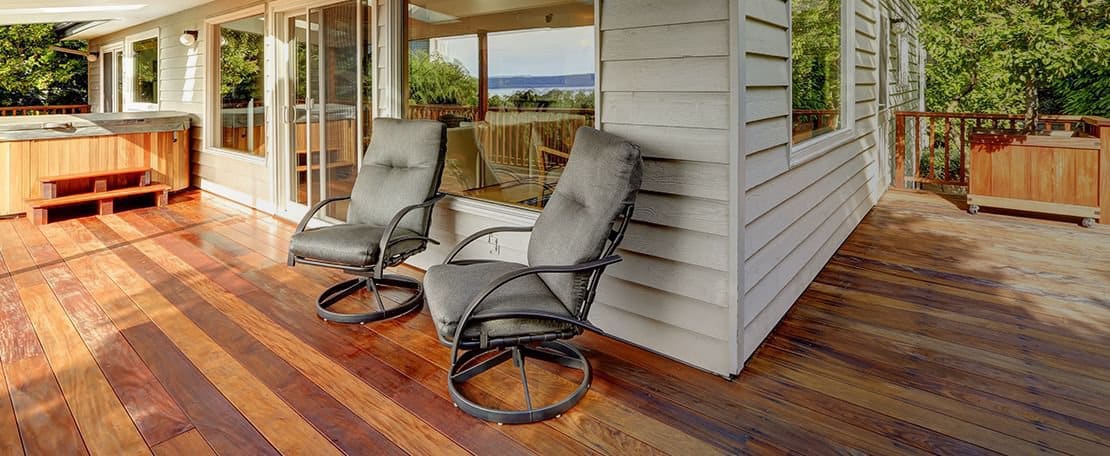 At Dick's Evergreen Fence and Deck, we take great pride in the decks we build. We build them to last and to meet all of your needs and wants. We have been in the decking and fence business for a very long time, so we know just how resilient, versatile, beautiful, and long-lasting vinyl decks can be. In fact, with minimal maintenance, the vinyl deck we build for you can last between 20 and 30 years!
Vinyl is a very popular material choice for decks in Hillsboro, OR, because it is weather-resistant and maintains its good looks even in inclement weather. But you have to make sure your vinyl deck is installed professionally to reap all the rewards that it offers. You can always count on us for world-class deck design and construction. Our consultants will walk you through all your options and we will build a custom vinyl deck for your home or place of business. Get your project started right now!
Vinyl Deck Installation & Construction
A vinyl deck built by Dick's Evergreen Fence and Deck comes standard with pressure-treated framing, galvanized ties and hangers and other premium appointments. We carefully walk you through the whole process, from material and color selection to design. We can build your dream deck, and our vinyl deck installation is informed by more than 40 years of experience. Our familiarity with vinyl deck construction and design means that we can offer you virtually any color you want, provide hidden fastening systems or color-matched screws for a seamless look, and excellent warranties. Our vinyl deck installation and construction service is predicated on meeting the full satisfaction of our customers. Our designers can help you realize your vision, and our building team is made up of some of the most skilled tradesmen in the state. We also provide vinyl decking rails, pool fences, farm fences, benches, pergolas, and more. To top it all off, we can handle all the permitting and engineering.
Advantages of Vinyl Decking
 Composite vinyl decking is very resilient and versatile. It holds many advantages over traditional wood decks, including:
Better Resistance to Warping – Vinyl is a more resilient material, so it doesn't splinter, warp or fade the way that wood decks
More Color Options – Not everyone prefers the look of natural wood, and wood stains are limited in terms of color. Vinyl, on the other hand, comes in a wide variety of colors so it may accent your outdoor living spaces better than wood.
Easy Cleaning – Vinyl deck surfaces aren't as permeable as wood. That means oil, grease, dirt, and other debris cannot embed themselves deep into vinyl. In most cases, all you have to do to clean your vinyl deck is spray it down with a hose.
Increases Home Value – A professionally designed and constructed vinyl deck could increase the overall value of your home.
Trust Our Experienced Deck Builders
 Since 1979, we have been building beautiful, custom decks for the homes and businesses of Hillsboro, OR. Our vinyl deck installation and design service are highly sought-after because we emphasize strength and beauty with every deck we build.
Contact Dick's Evergreen Fence and Deck
If you'd like to install a beautiful new vinyl deck on your property, then we want to talk to you about your project. Call us today for a free vinyl deck estimate!