Wood Decking in Hillsboro, OR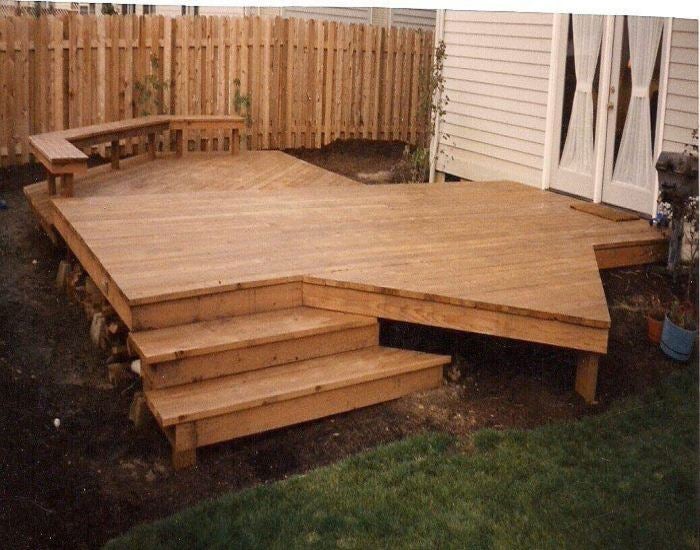 If you're seeking to add living space to your home without the cost of a full addition, an outdoor deck might be the right choice for you. Decking provides a space for you to lounge or entertains guests during the summer, all while increasing the value of your home.
At Dick's Evergreen Fence and Deck in Hillsboro, our skilled designers can work with you to develop a custom deck design for your space, starting with selecting the right material. We provide cedar, vinyl, composite, or aluminum decking and can help you select the material that best suits your needs and your home's aesthetic.
Advantages of quality hardwood decking
Here at Dick's Evergreen Fence and Deck, the standard wood decking we provide is red cedar, known for its beauty and durability. Cedar is naturally resistant to pest infestation due to natural oils in the wood, and the boards hold up in tough weather. They also are resistant to warping and rotting, keeping your deck aligned and slant-free.
Visually, cedar offers a beautiful, natural look, blending in well with landscaping and providing a somewhat rustic feel. You can either stain the wood to maintain the original appearance or leave it to weather to a natural silver. It's also low maintenance, so you don't have to spend excessive money and time on your deck when you could be relaxing on it.
If you're interested in learning more about other decking materials, visit our pages on composite decking and vinyl decking.
Wood deck installation and construction in Hillsboro
Our skilled deck contractors in Hillsboro can walk you through the whole process of adding a deck to your home, from design through installation. A standard Dick's Evergreen deck is built using:
Pressure-treated framing (posts, beams, and joists)
Galvanized hangers and ties
Joists are installed 16" on center
Most vinyl and composite products specify 16" spacing
Handrail that is custom built to suit the kind of decking material being used
Traditionally wood decks have joists 24" on center, but the newer growth wood is not as strong so a narrower spacing is recommended
The standard wood decking we provide is 2×6 tight-knot western red cedar, and we fasten it with either hot-dip galvanized Ardox nails or colored deck screws.
We also offer a wide range of extra decking and deck-related options to help you make your new space into an extension of your home. Deck-related options include awnings, benches, pergolas, privacy screens, and planter boxes. We can also take care of engineering and permits if necessary. Other extras available for your deck include:
Welded and Powder Coated Handrails/Grab rails
Vinyl & Wood Arbors
Custom or New England Arbors brand arbors
Custom Built Vinyl or Wood Pergolas
Pool Fence
Delivery of "DIY" Materials
If you're interested in installing a wood deck on your property or want to explore other deck materials, call Dick's Evergreen Fence and Deck in Hillsboro today at (503) 640-7700!