Patio Covers in Hillsboro, OR
Protect & Enhance Your Property with Patio Covers
Covering your patio is a simple way to add value to your property and make your outdoor space more enjoyable. Here at Dick's Evergreen Fence and Deck, we can help you select the perfect patio cover for your Northwest weather We have been helping homeowners in Hillsboro and surrounding areas improve their properties with new fencing, decking, patio covers, and more since 1979. Learn more about these garden accents and how they can improve your home for you and your loved ones, and then contact the team here at Dick's Evergreen Fence and Deck to start planning your patio cover project.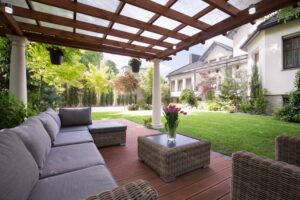 Benefits of Adding a Patio Cover to Your Home
A patio or deck can be an excellent part of your outdoor living space, but if you are not currently enjoying this part of your yard, it may be time to consider investing in a patio cover. There are many different types of patio covers, each offering their own benefits to enhance the space and make it more inviting. Adding a patio cover to your home offers a variety of benefits, including:
Preventing Weather Exposure – Are you afraid that all of the rain we get here in Hillsboro will ruin any furniture or other items you leave on the patio? You don't have to worry when you get a patio cover! Keep your furniture and other outdoor items safe from the rain and any other possibly damaging weather elements.
Preventing Sun Damage – Rain isn't the only concern when it comes to patio furniture. Sun damage is another big concern that keeps many homeowners from taking full advantage of their outdoor space. Protect outdoor furniture with a patio cover and get ready to enjoy more outdoor time with family and friends.
Keeping Your Patio Cool – The sun can also make it too warm for you to enjoy spending time on your patio, but a patio shade cover can provide all of the shade needed to keep this area cool. The shade also provides an extra layer of protection from the sun's UV rays, meaning you can feel comfortable spending more time outside on the patio.
Making the Patio More Usable – You can create more usable space on your property with a patio cover. This garden accent can make the patio a comfortable place to read or work while also providing your children with a great new space to play.
Increasing Your Home's Value – Any professional improvement/addition to your home will increase its value, and a patio cover is no exception. Whether you are thinking about selling your home in the future or plan to stay indefinitely, increasing your home's value is always a good thing!
Contact Dick's Evergreen Fence and Deck for Your Patio Cover
Are you ready to enjoy the benefits of adding a patio cover to your home? You can get the best customer service at an affordable price when you choose Dick's Evergreen Fence and Deck for your patio cover in Hillsboro, OR. We would love to help you enhance your home's beauty and function with a new patio cover. Contact us today for more information.