Garden Decking and Garden Accents in Hillsboro, OR
Spruce up Your Yard with Our Beautiful Products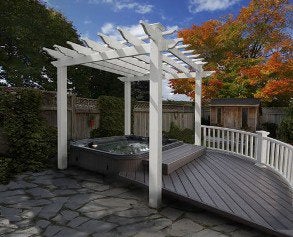 Our fencing and decking experts at Dick's Evergreen Fence and Deck can help your garden come to life with the perfect wood or vinyl garden accents. We carry pergolas, trellises, decking, awnings, and more, helping you select the perfect accent for your garden and providing high-quality installation and craftsmanship on every project.
We offer garden accents made with the following materials:
Vinyl Garden Accents
Wood Garden Accents
Types of garden accents
At Dick's Evergreen Fence and Deck in Hillsboro, OR, we carry a wide range of garden accents to help you complete the garden look of your dreams. Whether you want to add an awning to your outdoor kitchen for protection from the sun and rain or grow ivy along an arched arbor to welcome guests into your yard, we have you covered. Our primary types of garden accents include:
Pergolas
Pergolas offer both visual elegance and functionality by shading outdoor living spaces and setting the space apart from the rest of the garden. Installing a pergola will help you make the space more inviting and room-like, whether hosting guests or simply relaxing with your family in your garden.
Trellises
Climbing plants like peas, morning glories, and ivy clamber for space to grow vertically, and a trellis is a perfect option. When you select one of our beautiful cedar or vinyl trellises, you'll be able to enjoy the look of the accent year-round, whether covered with plants or standing by itself in winter.
Arbors
Arbors offer beautiful, inviting coverings for pathways or entrances to your backyard. Growing climbing plants like ivy or morning glories along the trellised arbor will give your guests a fairytale feel as they enter your garden.
Patio awnings and coverings
Adding an awning or covering to your patio can help make your outdoor living space more usable year-round, providing shade and rain protection. We can help you select the perfect material for your patio cover, serving both beauty and function.
Garden accent materials
All of our garden accent options can come in vinyl or wood, providing you with the perfect look and design for your space. Our skilled design team will work with you to understand your budget, aesthetic preferences, and desired maintenance level, helping you select the perfect garden accents to complete the look you are going for.
Our cedar garden accent structures are perfect for adding a natural wood look to your garden, blending in with the surrounding plants and trees. We have cedar trellises, pergolas, awnings, and arbors, helping you create a whimsical and inviting garden. We also offer staining for our wood garden accents, with the option to either get the wood pre-stained before installation or subcontract the staining to a local company.
Our vinyl garden accents, meanwhile, offer a wide selection of colors and textures, allowing you to choose a style that matches your fencing or your home. Vinyl is beautiful, affordable, and low-maintenance, simply requiring seasonal rinsing or occasional cleaning with soap and water to keep the structure clean. The wide range of color and style options available allows you to select the perfect trellis, arbor, or pergola for your yard.
Contact us today at (503) 640-7700 for a free estimate, except for insurance and/or real estate appraisal and negotiation. 1 to 2 weeks to receive quote from the day the estimate was conducted.!